3 Bedrooms - Sleeps 6 to 8 - Private Pool - Large Balcony - Garden
The left half of the accommodation can be separated and let on its own
This half of the house has 3 bedrooms plus kitchen, lounge and balcony overlooking the garden and private pool.
Floor Plan - 3 Bedroom Property
Kitchen and Lounge
The kitchen leads onto a large balcony which overlooks the garden and child safe private pool (9.5m by 4.5m). With this terrace and outside living area, it's perfect for eating out doors and enjoying the warm weather.
Please note that the main accommodation is on the first floor and so is not ideal for those who find stairs difficult.
Large balcony connected to the kitchen
Accommodation
The 3 bedrooms are a double room with en suite, a double room with kingsize four poster bed and a twin room with 2 single beds plus bunk beds, this room sleeps 4
Bedroom 1, double room with en suite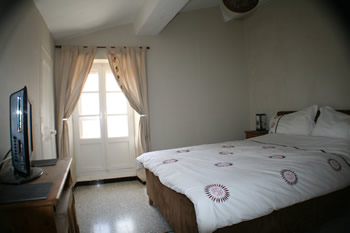 Bedroom 2 with kingsize 4 poster bed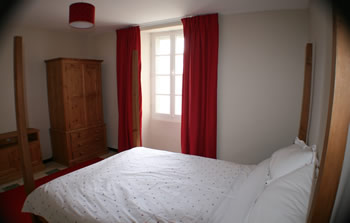 Bedroom 3, twin room plus bunk beds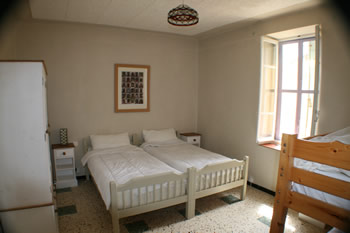 Pool and sun loungers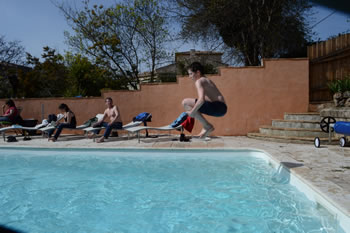 BBQ
Under balcony, drive and garden

The house is in a good location close to the centre of the village. There are several shops within a 2 minute walk to get those daily essentials and a larger supermarket just a 5 minute drive away.
The village also has a great restaurant, 'Abbaye Sylva Plana', which is also within walking distance. It is in an old building with a modern interior and an excelent menu. We can highly recommend it.
With all the facilities you need at your finger tips, you can choose to relax on the terrace or by the pool....... or visit the local area with all it has to offer.
See what our guests say on Facebook
The Local Area....
If you do want to get out and about to explore, the village of Laurens is in the perfect location. Situated mid-way between the sandy beaches of the Mediterranean, just over half an hour to the South and 'Haut Languedoc Park Natural' 20 minutes to the North, everything you need is within easy reach.
To see some places we like.... Click Here for some of our photos.
There are also several Golf Courses to visit within easy reach of Laurens.
And because the South of France has such a lovely Climate
In March 2011 'The Independent' featured an excellent series of articles 'Herault in Languedoc'. They encapsulated the spirit of the region and painted a picture of the range of things to see and do during your stay. I can highly recommend these articles if you want to get a really good feel for the area and everything it has to offer.
Garden, terrace and BBQ
2019 Rates - 3 Bedroom Option
22nd December 2018 to 5th January 2019........£1150.00 per week (1265.00 Euros)
5th January to 13th April 2019................£750.00 per week (825.00 Euros)
13th April to 6th July 2019...............£850.00 per week (935.00 Euros)
6th July to 31st August 2019.......Not available as 3 bed option, see 6 bed prices
31st August to 2nd November 2019...........£850.00 per week (935.00 Euros)
(Rate 1.10 Euros to the pound)
To see what our guests say please see our Reviews Page or visit our holiday home Facebook Page
Or please Contact Us if you would like more information, or if you would like to make a booking.