Local amenities, restaurants, places to visit....
The house is situated near the centre of the village with several shops just a 2 minute walk away.....
Boulangerie
Patisserie
Epicerie (General Store)
Charcuterie and Boucherie
Pharmacie
Tabac
Bar
Bureau de Poste
Takeaway Pizza
Restaurant - Abbaye Sylva Plana
There is an Intermarche supermarket just a 5 minute drive to the South of Laurens, on the main road near Magalas. It has a good selection of everything you might need during your stay, from groceries, fruit and veg, to hardware, clothes, toys and games.
To the North of Laurens in Bedarieux, about a 15 minute drive, there is an even larger supermarket which is also open on Sunday mornings which can be useful.
The village has a lovely restaurant, 'Abbaye Sylva Plana', which is within walking distance of our holiday home.
13 Bis, ancienne route de Bedarieux, Laurens, Tel 04 67 93 43 55
It is in an old building with a modern interior and outdoor seating area. Good food, convenient, we highly recommend it. Not open every day so please check.
There are many other good restaurants in the villages surrounding Laurens. We also recommend 'La Forge' in Bedarieux with a lovely outside terrace for eating beneath the trees. We have eaten there several times and it's always been very good, and not expensive. It often gets busy with the locals, which is always a good sign, so we recommend that you book.
There is a take away pizza place in the centre of the village and a pizza van which comes to the village on Thursday and Sunday evenings.
In and around the village there are many vineyards and domaines. The Languedoc region is well known for a rich variety of quality wines. For more about the wines of the Languedoc region, go to Food and Wine.
A lovely place to visit is Roquebrun. This is a picturesque village with a river where you can swim or even rent a canoe.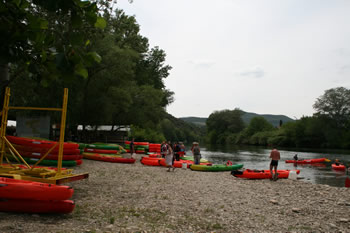 Roquebrun
For beaches that are less touristy, the french locals go to Serignan and Portiragnes. There is also a fishing Port with a nice beach at Mez. This has a few restaurants along the beach front.
Markets..... St Chinian has a market on Thursday and Sunday. Pezenas market is on Saturdays, well worth the visit. There is a flower market in Beziers on Fridays which is amazing.
Pezenas market
There is a new shopping centre in Beziers, the Polygone which is lovely. There is also a cinema in Beziers on the outskirts as you head to Valras Plage. This beach is very touristy but has a promenade with lots of Restaurants.
The historic town of Beziers is only a 20 minute drive away which has many places of interest to visit. There are also many shops, bars and restaurants to enjoy a taste of French cuisine, as well as for those who want it, a busy night life. On the outskirts of the town, there is a wide choice of shopping malls, hypermarkets and many other larger superstores.
Whatever you want from your holiday,'Our Holiday Home' has everything you need within easy reach to enjoy a fantastic time in Languedoc.
For more pictures of places we like.... Click Here.