Cirque de Moureze
About half an hour from the house, Cirque de Moureze is well worth a visit. With natural rock formations and fantastic views, there is a choice of walks from 40 mins to 2-3 hours. Don't forget to carry plenty of water!!.
Starting in Moureze, walk through the picturesque village to the start of several well marked of routes.
Looking back at the old village on the hill with ruins of a hermitage.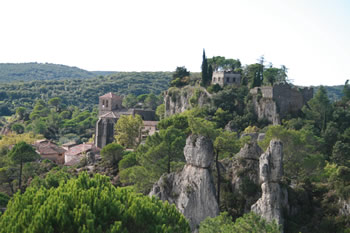 Walking with friends, Andy, Penny, Audrey, Annick and Maryves.
Over the ridge from the Cirque de Moureze, you will find Lac de Salagou
Click for more Places we Like.